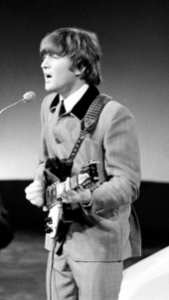 December 8, 1980, the world lost John Lennon: peace activist, musician, father, songwriter, and founding Beatle member.
I came to my Beatles fandom via Paul McCartney as a junior high school kid and high school kid. As a keyboard player, Paul's songs like "Hey Jude," "Let It Be," "Lady Madonna," "My Love," and even "Live and Let Die" and "Oh, Darling" were more tempting to play than John's guitar laden tunes. Of course I learned "Imagine" but it was Paul who I gravitated towards, buying most of his records the minute they came out. He's the one I've seen four times.
But as I listen on Sirius XM's Beatles Channel, I hear the genius of that early stuff, the stuff that Lennon sang and wrote. And I hear the maturity in his lyrics, the sophistication even, that I only get occasionally from Paul. A Paul song with a John line just seems — right. ("Getting Better" is the classic example, with Lennon's "It can't get much worse" line thrown in over the optimism.) "I Am The Walrus," "Glass Onion," "Lucy in the Sky With Diamonds," "The Ballad of John and Yoko" — they are all songs you can listen to multiple times and always find new stuff to wonder about.
Paul is still my favorite; the only music act I'd pay big bucks to see live, but I appreciate John more and more as I listen to the Beatles Channel and hear more of his songs along with some commentary from people like Chris Carter and Peter Asher. I learn a lot. And I am thoroughly entertained. I do not get tired of listening to their songs, songs they were inspired by, and songs that others did as a tribute to them or a cover of their songs.
Remembering John Winston Lennon: 10/9/40 to 12/8/80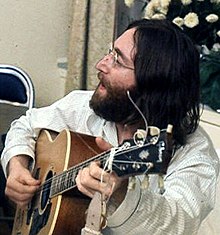 *****