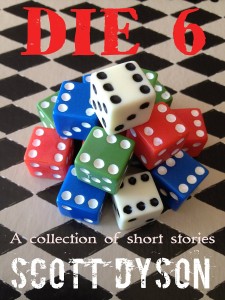 It's live! DEADLOCK PRESS and I are pleased to announce that DIE 6, a collection of 6 short stories, is now available in the Amazon Kindle Store for $2.99.
Here's the description:
A short story collection that contains:

AN ARTIFICIAL YEARNING – a young man meets the girl of his dreams online, and yearns to take the next step – meeting in person. But the love of his life is not what he expected…

BLOOD TIES – a psychic who is in debt to the wrong people sees a way out if he can talk to the ghost of a bank robber and find the money that was stolen. Of course, it's never as easy as it sounds…

THE TOOTH FAIRY – Perion, queen of the Dentata, is captured by a boy whose tooth she has come to collect, and tries to make a deal for her freedom, the cost of which is extremely high…

THE FUN HOUSE – Natalie is stuck taking her little brother to the carnival, but when they enter the Fun House, they experience the thrills and chills of their young lives…this Fun House is a little too real…

TIME HEALS ALL WOUNDS – When a woman shows up at Joseph's door with an unbelievable story, he is left with no other choice but to accept it when agents from the future attack both of them in his time. His only escape – to travel to the future himself and attempt to set things right…

THE GHOST TRAIN – Three high school students in Addison Falls try to solve the mystery of both the strange dreams they are having and the reappearance of a "Ghost Train" passing directly through their mall. The answers are found in the past…

Plus a brief author's note and a sample of "Rick's Rules".

Two SF stories, two horror/ghost stories, and a couple that cross genres…Enjoy!
It's about 36,400 words of new fiction, along with a brief author's note (no need to read it if you're not interested in any backstory on the works), a sample of Rick's Rules, and links to my other stories.
Please take a look at it, download the sample, and give it a read!  Thank you!
*****